Light Weight / Medium Weight Rehandling Buckets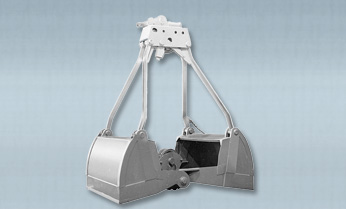 Set for two, three, or four-line service.
All welded construction.
Grease fittings at all points of friction recessed to prevent damage.
Wedge-type open rope sockets furnished for positive, easy rope connection.
Pins and shafts are heat-treated steel of adequate size to prevent breakage and promote long service life.
Heat-treated steel combines light weight with rugged strength.
Furnished with replaceable bushings at all hinge points.
 


Heaped
Capacity 
Maximum Height
(Open)
Width
Length
(Open)
CSRCL Handling materials
up to 60 lb. per cu. ft.
CSMR Handling materials
of 60 to 100 lb. per cu. ft.
Model #
cu.yd
m3
ft/in
meters
ft/in
meters
ft/in
meters
 lbs.
kg
 lbs.
kg
CSLR-250
2.5
1.9
10′ 0″
3.048
5′ 6″
1.676
8′ 0″
2.438
3900
1769
4400
1995.8
CSLR-300
3
2.3
10'11″
3.327
5'10″
1.778
8′ 7″
2.616
4380
1986.8
4800
2177.3
CSLR-350
3.5
2.7
11′ 6″
3.505
6′ 3″
1.905
9′ 0″
2.743
5000
2268
5490
2490.2
CSLR-400
4
3.1
11′ 7″
3.531
6′ 5″
1.956
9′ 3″
2.845
5600
2540.1
6100
2766.9
CSLR-450
4.5
3.4
12′ 4″
3.759
6′ 8″
2.032
9′ 8″
2.946
6000
2721.6
6800
3084.5
CSLR-500
5
3.8
12'10″
3.912
6'10″
2.083
10′ 0″
3.048
6680
3030
7500
3402
CSLR-600
6
4.6
13′ 4″
4.064
7′ 3″
2.21
10'10″
3.302
8000
3628.8
8900
4037
CSLR-700
7
5.4
14′ 4″
4.369
7′ 6″
2.286
11′ 5″
3.48
8800
3991.7
10100
4581.3
CSLR-800
8
6.1
14′ 8″
4.47
7′ 9″
2.362
12′ 0″
3.658
10150
4604
11150
5057.6
CSLR-900
9
6.9
15′ 5″
4.699
8′ 2″
2.489
12′ 8″
3.861
11700
5307.1
12600
5715.3
CSLR-1000
10
7.7
15′ 7″
4.75
8′ 6″
2.591
12'10″
3.912
12400
5624.6
13500
6123.6
CSLR-1100
11
8.4
16′ 2″
4.928
8'10″
2.692
13′ 1″
3.988
13600
6168.9
15000
6804
CSLR-1200
12
9.2
16′ 3″
4.753
9′ 2″
2.794
13′ 8″
4.166
14900
6758.6
16200
7348.3