Diesel-Powered Remote Control Self-Contained Hydraulically Operated 5 Tine Orange Peel Grabs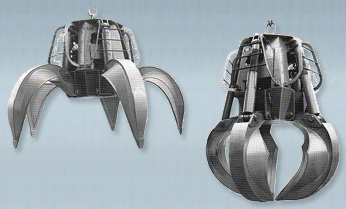 Radio control is designed with today's highest solid-state circuitry. Unit has a special address code assigned to the encoder, which is a feature that prevents any interference with other radio transmissions.
Operator can be approximately 500 feet away to operate grapple.
For use on all types of cranes and derricks.
May be furnished with or without hydraulic rotation.
Comes completely self-contained ready for operation.
All components nationally known brands.
Grease fittings at all points of friction recessed to prevent damage.
Furnished with replaceable bushings at all hinge points.
Four, five, and six tine models available.
Mack engineered and tested heavy-duty hydraulic cylinders.
Pins and shafts are heat-treated steel of adequate size to prevent breakage and promote long service life.
Heat-treated alloy steel combines light weight with rugged strength.
 


Capacity
Height (Open)
Overall Height
(open)
Opening
Between Tines
Approximate
weight with oil
Model No.
yd
m
ft/in
meters
ft/in
meters
ft/in
meters
lbs.
kg.
OPSDSCH-200-5
2.00
1.53
8′ 5″
2.565
9′ 3″
2.819
10′ 7″
3.073
9,360
4,426
OPSDSCH-250-5
2.50
1.91
8′ 9″
2.667
9′ 11″
3.023
11′ 1″
3.378
9,880 
4,481 
OPSDSCH-300-5
3.00
2.29
9′ 0″
2.743
10′ 6″
3.2
12′ 5″
3.785
13,832 
6,274 
OPSDSCH-350-5
3.50
2.68
9′ 2″
2.794
10′ 8″
3.251
12′ 8″
3.861
14,560 
6,604 
OPSCSCH-400-5
4.00
3.06
9′ 4″
2.845
10′ 11″
3.327
12′ 11″
3.937
15,304 
6,942 
OPSCSCH-500-5
5.00
3.82
9′ 11.5″
3.035
12′ 1″
3.683
14′ 0″
4.267
16,896 
7,664 
OPSCSCH-600-5
6.00
4.59
10′ 1.5″
3.086
12′ 5″
3.785
14′ 11.5″
4.559
17,437
7,909