Standard / Heavy Weight Wide Rehandling Buckets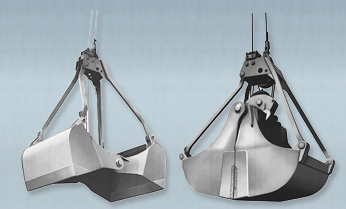 Set for two, three, or four-line service.
Sheaves mounted on roller bearings, grooved for rope size specified by user.
Grease fittings arranged to prevent accidental damage.
Hardened fairlead rollers reduce rope wear.
Special sizes and types upon request.
Pins and shafts are heat-treated steel of adequate size to prevent breakage and promote long service life.
Modern welded design permits faster handling at full capacity.
Heat-treated alloy steel combines light weight with rugged strength.
Furnished with replaceable bushings at all hinge points.
 


Plate Line
Capacity
Maximum
Height (Open)
Width
Length
(Open)
Weight
CSWR
Weight
CSWRH
Model No.
yd
meters
ft/in
meters
ft/in
meters
ft/in
meters
lb.
kg.
lb.
kg.
CSWR-100
1.00
0.76
8'10″
2.692
4′ 1″
1.244
7'8″
2.336
3400
1541
3750
1700
CSWR-125
1.25
0.96
9′ 7″
2.921
4′ 6″
1.371
7'8″
2.336
3800
1723
4225
1916
CSWR-150
1.50
1.15
10′ 4″
3.149
4′ 9″
1.447
7'9″
2.387
4300
1950
4800
2176
CSWR-175
1.75
1.34
10′ 7″
3.225
5′ 6″
1.676
8'8″
2.641
4800
2176
5375
2437
CSWR-200
2.00
1.53
11′ 0″
3.352
6′ 0″
1.828
9'0″
2.743
5500
2494
6150
2789
CSWR-250
2.50
1.91
11′ 8″
3.556
6′ 2″
1.879
9'3″
2.819
6500
2947
7050
3197
CSWR-300
3.00
2.29
12′ 0″
3.733
6′ 8″
2.032
9'3″
2.819
7000
3174
7625
3458
CSWR-350
3.50
2.68
12′ 6″
3.81
6′ 9″
2.057
9'6″
2.895
7600
3446
8300
3764
CSWR-400
4.00
3.06
12′ 9″
3.835
7′ 5″
2.26
9'7″
2.921
8300
3764
8975
4070
CSWR-450
4.50
3.44
13′ 2″
4.013
7′ 6″
2.286
11'0″
3.352
8900
4036
9750
4421
CSWR-500
5.00
3.82
13′ 3″
4.038
7′ 7″
2.311
11'7″
3.53
9500
4308
10425
4727
CSWR-550
5.50
4.22
14′ 1″
4.292
7'10″
2.387
11'8″
3.556
10150
4603
11150
5056
CSWR-600
6.00
4.59
14′ 3″
4.343
7'11″
2.413
12'1″
3.683
10750
4875
11825
5362
CSWR-650
6.50
4.97
14′ 5″
4.394
8′ 0″
2.438
12'5″
3.784
11450
5192
12600
5714
CSWR-700
7.00
5.35
14′ 7″
4.445
8′ 1″
2.463
12'8″
3.86
12000
5442
13225
5997
CSWR-800
8.00
6.12
14'10″
4.724
8′ 3″
2.514
13'2″
4.114
13250
6009
14625
6632
CSWR-900
9.00
6.88
15′ 1″
4.8
8′ 5″
2.54
13'8″
4.216
14500
6575
16025
7267
CSWR-1000
10.00
7.65
16′ 2″
4.927
8′ 6″
2.59
14'4″
4.368
15750
7142
17425
7902