Medium Weight Hydraulic Clamshell Buckets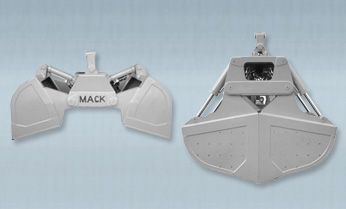 For use on all types of cranes and derricks.
ASTM- (T-1) steel plate is used in manufacturing. 400 brinell hardness wear plate is used in high wear areas that come in contact with the product.
Grease fittings arranged to prevent accidental damage.
Mack engineered and tested heavy-duty hydraulic cylinders.
Pins and shafts are heat-treated steel of adequate sizes.
Available options: rubber sealed lips, bolt-on reversible seal lips, replaceable teeth, ecology covers, hydraulic continuous rotation.
 


Heaped
Capacity
Plateline
Capacity
Max Height
(Closed)
Overall
Width
Length
(Open)
Length
(Closed)
Weight
Model No.
cu yd.
cu mtr.
cu. yd.
cu. mtr.
ft/in
meters
ft/in
meters
ft/in
meters
ft/in
meters
lbs.
kg.
MHHM-200
2
1.53
1.83
1.4
5'10″
1.778
3′ 8″
1.118
10′ 2″
3.099
7'11″
2.413
3887
1763
MHHM-250
2.5
1.91
2.25
1.72
6′ 0″
1.828
4′ 0″
1.219
10′ 7″
3.225
7'11″
2.413
4217
1913
MHHM-300
3
2.29
2.72
2.08
6′ 3″
1.905
4′ 3″
1.295
11′ 0″
3.352
7'11″
2.413
4546
2062
MHHM-350
3.5
2.68
3.03
2.32
6′ 8″
2.032
4′ 5″
1.346
11′ 5″
3.48
8′ 0″
2.438
5245
2379
MHHM-400
4
3.06
3.59
2.74
7′ 6″
2.286
4′ 7″
1.397
12′ 7″
3.835
8′ 3″
2.514
6050
2744
MHHM-450
4.5
3.44
4.05
3.1
7′ 8″
2.336
4′ 8″
1.422
13′ 0″
3.962
8′ 8″
2.641
6648
3015
MHHM-500
5
3.82
4.5
3.44
7'10″
2.387
4'10″
1.473
13′ 9″
4.191
9′ 0″
2.743
7047
3196
MHHM-550
5.5
4.2
4.99
3.82
7'11″
2.413
4'10″
1.473
13'10″
4.216
9′ 2″
2.794
7675
3481
MHHM-600
6
4.59
5.54
4.24
8′ 0″
2.438
5′ 5″
1.651
14′ 0″
4.267
9′ 4″
2.845
8125
3685
MHHM-650
6.5
4.97
5.85
4.47
8′ 1″
2.464
5′ 9″
1.752
14′ 0″
4.267
9′ 4″
2.845
8438
3827
MHHM-700
7
5.35
6.33
4.84
8′ 3″
2.514
6′ 2″
1.88
14′ 0″
4.267
9′ 4″
2.845
8845
4012
MHHM-800
8
6.12
7.2
5.5
8′ 5″
2.565
6′ 5″
1.956
14′ 6″
4.419
9′ 5″
2.87
9445
4284
MHHM-900
9
6.88
8.03
6.14
8′ 7″
2.616
6'10″
2.083
15′ 2″
4.623
9′ 6″
2.896
10978
4980
MHHM-1000
10
7.65
8.46
6.47
8′ 7″
2.616
7′ 4″
2.235
15′ 2″
4.623
9′ 6″
2.896
11348
5147
MHHM-1100
11
8.41
9.01
6.89
9′ 2″
2.794
9′ 4″
2.845
15′ 2″
4.623
10′ 2″
3.099
12750
5783
MHHM-1200
12
9.17
9.84
7.52
9′ 4″
2.845
9′ 7″
2.921
15′ 8″
4.775
10′ 2″
3.099
13725
6226
MHHM-1300
13
9.94
11.58
8.85
9′ 7″
2.921
9′ 9″
2.972
16′ 6″
5.029
10′ 2″
3.099
14748
6690