Hydraulically Operated Self-Contained Medium-Weight Rehandling Buckets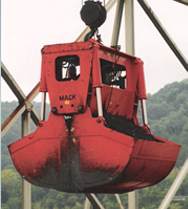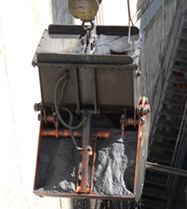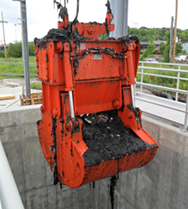 For use on all types of cranes and derricks.
Submersible and explosion-proof models available for use as:
ASTM- (T-1) steel plate is used in manufacturing. 400 brinell hardness wear plate is used in high wear areas that come in contact with the product.
Mack engineered and tested heavy-duty hydraulic cylinders.
All components nationally known brands.
Pins and shafts are heat-treated steel of adequate size to prevent breakage and promote long service life.
Available options: rubber sealed lips, bolt-on reversible seal lips, replaceable teeth, ecology covers, hydraulic continuous rotation.



Heaped Capacity
Maximum
Height (Closed)
Overall Width
Length (Open)
Length (Closed)
Weight (With Oil)
 Model No.
Cu.Yd.
Cu.Mtr.
ft/in
meters
ft/in
meters
ft/in
meters
ft/in
meters
lbs.
kgs.
MHSCHM-100
1
0.76
5′ 6″
1.676
4′ 2″
1.270
6′ 8″
2.032
6′ 3″
1.905
3,800
1,723
MHSCHM-150
1.5
1.15
6′ 0″
1.828
4′ 5″
1.346
7′ 8″
2.336
6′ 3″
1.905
4,200
1,905
MHSCHM-200
2
1.53
6′ 9″
2.057
4′ 5″
1.346
8′ 3″
2.514
7′ 9″
2.362
6,560
2,975
MHSCHM-250
2.5
1.91
7′ 0″
2.133
4′ 6″
1.371
8′ 9″
2.667
7′ 9″
2.362
6,900
3,129
MHSCHM-300
3
2.29
8′ 7″
2.616
4′ 6″
1.371
10′ 0″
3.048
7′ 6″
2.286
7,200
3,265
MHSCHM-350
3.5
2.68
8′ 7″
2.616
4′ 9″
1.447
10′ 0″
3.048
7′ 6″
2.286
7,560
3,429
MHSCHM-400
4
3.06
8′ 7″
2.616
5′ 1″
1.549
10′ 3″
3.124
7′ 10″
2.387
8,700
3,946
MHSCHM-450
4.5
3.44
9′ 0″
2.743
5′ 7″
1.701
10′ 6″
3.200
8′ 0″
2.438
9,720
4,408
MHSCHM-500
5
3.82
9′ 2″
2.794
5′ 9″
1.752
10′ 10″
3.302
8′ 2″
2.489
10,800
4,898
MHSCHM-550
5.5
4.20
9′ 5″
2.870
5′ 11″
1.803
11′ 4″
3.454
8′ 2″
2.489
11,570
5,248
MHSCHM-600
6
4.59
11′ 10″
3.352
6′ 0″
1.828
12′ 3″
3.733
10′ 3″
3.124
12,960
5,878
MHSCHM-650
6.5
4.97
11′ 4″
3.454
6′ 0″
1.828
12′ 10″
3.911
10′ 3″
3.124
14,040
6,368
MHSCHM-700
7
5.35
11′ 4″
3.454
6′ 6″
1.981
12′ 10″
3.911
10′ 3″
3.124
15,120
6,858
MHSCHM-750
7.5
5.73
11′ 6″
3.505
6′ 6″
1.981
13′ 2″
4.013
10′ 7″
3.225
16,260
7,375
MHSCHM-800
8
6.12
11′ 8″
3.556
6′ 6″
1.981
13′ 6″
4.114
10′ 9″
3.276
18,200
8,255
MHSCHM-900
9
6.88
12′ 0″
3.657
6′ 9″
2.057
14′ 2″
4.318
10′ 11″
3.327
18,700
8,482
MHSCHM-1000
10
7.65
12′ 0″
3.657
7′ 6″
2.286
14′ 2″
4.318
10′ 11″
3.327
21,600
9,797
MHSCHM-1100
11
8.41
12′ 1″
3.683
8′ 2″
2.489
12′ 7″
3.835
11′ 0″
3.352
23,760
10,777
MHSCHM-1200
12
9.17
12′ 3″
3.733
9′ 0″
2.743
13′ 0″
3.962
11′ 2″
3.403
25,200
11,430
MHSCHM-1300
13
9.94
12′ 3″
3.733
9′ 7″
2.921
13′ 0″
3.962
11′ 2″
3.403
26,900
12,201
MHSCHM-1400
14
10.7
12′ 3″
3.733
10′ 4″
3.149
13′ 3″
4.038
11′ 4″
3.454
28,200
12,791
MHSCHM-1500
15
11.47
12′ 4″
3.759
10′ 8″
3.251
13′ 5″
4.089
11′ 6″
3.505
29,800
13,517