Extra Light Weight Hydraulic Clamshell Buckets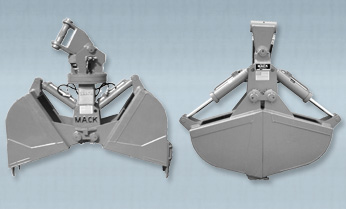 For use on all types of cranes and derricks.
May be equipped with bolt on fabricated teeth.
Grease fittings arranged to prevent accidental damage.
Mack engineered and tested heavy-duty hydraulic cylinders.
May be furnished with or without hydraulic rotation.
Heat-treated alloy steel combines light weight with rugged strength.
Pins and shafts are heat-treated steel of adequate size.
 


Heaped
Capacity
Maximum
Height (Closed)
Overall
Width
Length
(Open)
Length
(Closed)
Approximate
Weight*
Model No.
cu yd
cu mtr
ft/in
meters
ft/in
meters
ft/in
meters
ft/in
meters
lbs.
kg.
MHHXL-50
0.5
0.38
4′ 0″
1.219
2′ 2″
0.66
5'11″
1.803
5′ 1″
1.549
1360
616
MHHXL-65
0.65
0.5
4′ 2″
1.27
2′ 5″
0.737
6′ 3″
1.905
5′ 1″
1.549
1490
676
MHHXL-75
0.75
0.57
4′ 5″
1.346
2′ 5″
0.737
6′ 5″
1.956
5'10″
1.778
1584
718
MHHXL-90
0.9
0.69
4′ 7″
1.397
2′ 7″
0.787
6′ 9″
2.057
5'10″
1.778
1684
764
MHHXL-100
1
0.76
4′ 7″
1.397
2'10″
0.864
6′ 9″
2.057
5'10″
1.778
1762
799
MHHXL-125
1.25
0.96
5′ 9″
1.753
2'11″
0.889
8′ 4″
2.54
6′ 6″
1.981
2404
1090
MHHXL-150
1.5
1.15
5′ 9″
1.753
3′ 7″
1.092
8′ 4″
2.54
6′ 6″
1.981
2648
1201
MHHXL-175
1.75
1.34
5'11″
1.803
3′ 7″
1.092
8′ 9″
2.667
6′ 6″
1.981
2744
1245
MHHXL-200
2
1.53
5'11″
1.803
4′ 2″
1.27
8′ 9″
2.667
6′ 6″
1.981
3075
1395