Light Weight / Medium Weight Radio Control Buckets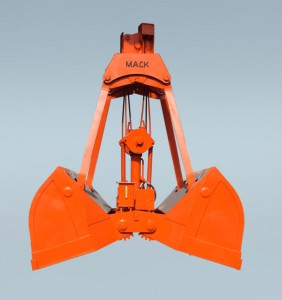 All welded construction.
Grease fittings at all points of friction recessed to prevent damage.
Wedge-type open rope sockets furnished for positive, easy rope connection.
Radio control up to 500 ft. range.
Pins and shafts are heat-treated steel of adequate size to prevent breakage and promote long service life.
Heat-treated steel combines light weight with rugged strength.
Furnished with replaceable bushings at all hinge points.
 



Heaped
Capacity
Maximum Height
to Hook Including
Cables
Width
Length
(Open)
CSRCL Handling free-flowing
materials weighing
up to 60 lb. per cu. ft.
CSRC Handling free-flowing
materials weighing
60 to 100 lb. per cu. ft.
Model No.
yd
meters
ft/in
meters
ft/in
meters
ft/in
meters
lb.
kg.
lb.
kg.
CSRC-200
2
1.5
22′ 9″
6.94
4′ 6″
1.32
7′ 4″
2.24
5475
2483
6075
3392
CSRC-300
3     
2.3
23'10″
7.27
5′ 0″
1.52
8′ 3″
2.52
6820
3093
7480
4036
CSRC-400
4
3.1
24′ 5″
7.45
5′ 6″
1.68
9′ 2″
2.8
8200
3719
8900
5125
CSRC-500
5     
3.8
25'10″
7.88
5'11″
1.8
9′ 9″
2.97
9500
4308
11300
5333
CSRC-600
6     
4.6
26′ 5″
8.06
6′ 1″
1.86
10′ 7″
3.23
9750
4422
11760
5850
CSRC-700
7     
5.4
28′ 5″
8.67
6′ 3″
1.91
11′ 4″
3.46
10700
4853
12900
6531
CSRC-800
8     
6.1
32'11″
10.03
6′ 6″
1.98
12′ 1″
3.69
11900
5397
14400
7710
CSRC-900
9    
6.9
29'10″
10.03
7′ 3″
2.21
12′ 1″
3.69
13750
6236
17000
8390
CSRC-1000
10    
7.7
32'11″
10.03
7'10″
2.39
12′ 1″
3.69
15500
7029
18500
8980
CSRC-1100
11    
8.4
32'11″
10.03
8′ 2″
2.49
12′ 1″
3.69
15950
7234
19800
9569
CSRC-1200
12    
9.2
32'11″
10.03
8′ 8″
2.64
12′ 1″
3.69
16750
7596
21100
10159
CSRC-1300
13    
9.9
32'11″
10.03
9′ 6″
2.9
12′ 1″
3.69
17650
8005
22400
10748
CSRC-1400
14   
10.7
32'11″
10.03
10′ 0″
3.05
12′ 1″
3.69
18100
8209
23700
11338
CSRC-1500
15   
11.5
32'11″
10.03
11′ 3″
3.43
12′ 1″
3.69
18900
8571
25000