Self–Contained Hydraulically Operated Log Grapples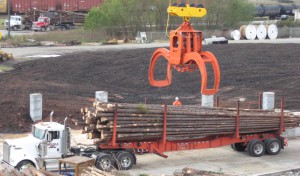 For use on all types of cranes and derricks.
May be furnished with or without hydraulic rotation.
Comes electro-hydraulically self-contained, diesel self-contained, or it can be furnished utilizing an independent hydraulic power source.
Mack engineered and tested heavy-duty hydraulic cylinders
All components nationally known brands.
Modern weld design permits faster handling of wood at full capacity.
Pins and shafts are heat-treated steel of adequate size to prevent breakage and promote long service life.
Heat-treated alloy steel combines light weight with rugged strength.

 
Area when Tine
Points Are Meeting
Overall Height Points
Meeting (without conn.)
Tine Opening
Weight Standard Model
(w/conn.) Not Self-Cont.
Weight Self. –
Cont. w/conn. & oil
Model No.
ft
meters
ft/in
meters
ft/in
meters
lb.
Kg.
lb.
Kg.
ILGSCHCR-5
5
0.46
8′ 6″
2.5908
5′ 2″
1.5748
2964
1344
4184
1898
ILGSCHCR-10
10
0.93
9′ 9″
2.9718
9′ 2″
2.794
4960
2250
6500
2948
ILGSCHCR-15
15
1.39
10′ 4″
3.1496
10′ 0″
3.048
6050
2744
8000
3629
ILGSCHCR-20
20
1.86
11′ 8″
3.556
10′ 4″
3.1496
7697
3491
9757
4426
ILGSCHCR-25
25
2.32
12′ 2″
3.7084
13′ 0″
3.9624
8549
3878
10829
4912
ILGSCHCR-30
30
2.79
12′ 7″
3.8354
12′ 9″
3.8862
9130
4141
11410
5175
ILGSCHCR-35
35
3.25
15′ 1″
4.5974
15′ 8″
4.7752
9601
4355
12991
5893
ILGSCHCR-40
40
3.72
15′ 4″
4.6736
16′ 2″
4.9276
9763
4428
13153
5966
ILGSCHCR-50
50
4.64
16′ 4″
4.9784
15′ 5″
4.699
15450
7008
19460
8827
ILGSCHCR-60
60
5.57
17′ 7″
5.3594
17′ 4″
5.2832
16690
7570
21200
9616
ILGSCHCR-70
70
6.5
19′ 0″
5.7912
19′ 0″
5.7912
21585
9791
26445
11995
ILGSCHCR-80
80
7.43
20′ 9″
6.3246
20′ 5″
6.223
25783
11695
31603
14335
ILGSCHCR-90
90
8.36
22′ 2″
6.7564
22′ 7″
6.8834
27280
12374
33400
15150
ILGSCHCR-100
100
9.29
23′ 4″
7.112
23′ 10″
7.2644
27880
12646
34100
15467