Hydraulically Operated Log Grab Attachments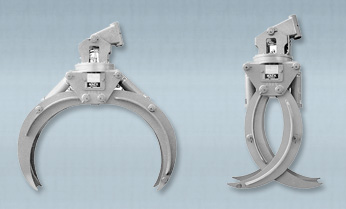 All weights and dimensions are approximate.
Special sizes and types upon request.
Mack manufactured heavy-duty cylinders.
All shafts are 4140 steel of adequate size to prevent breakage.
Furnished with replaceable bushings at all hinge points.
Furnished with continuous hydraulic rotation.
Heat-treated alloy steel combines light weight with rugged strength.
Grease fittings arranged to prevent accidental damage.
Furnished with connector to fit your boom point.
Pre-hosed ready to go.
Adaptable to fit all types and models of hydraulic cranes.
 
Log Diameter Capacity
Overall Height (Open)
Less Attachment
Overall Height (Closed)
Less Attachment
Opening
Between Tines
Approximate Weight
with adapter
Model No.
ft/in
meters
ft/in
meters
ft/in
meters
ft/in
 meters
lbs.
kg.
 
 
 
 
 
 
 
 
 
 
 
ILGHCR-43
3′ 7″
1.092
6′ 2″
1.879
6′ 1″
1.854
3′ 7″
1.092
2000
907
ILGHCR-53
4′ 5″
1.346
6′ 5″
1.956
6′ 4″
1.93
4′ 5″
1.346
2100
953
ILGHCR-63
5′ 3″
1.6
6′ 8″
2.032
7′ 0″
2.134
5′ 3″
1.6
2200
998
ILGHCR-73
6′ 1″
1.854
6′ 9″
2.057
7′ 2″
2.184
6′ 1″
1.854
2300
1043