Openside Hydraulically Operated Pulpwood Grabs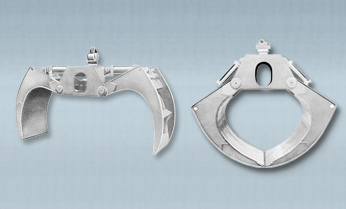 For use on all types of cranes and derricks.
May be furnished with 260 degree or continuous rotation.
Mack engineered and tested heavy-duty hydraulic cylinders.All components nationally known brands.
Heat-treated alloy steel combines light weight with rugged strength.
Pin and shafts are heat treated steel of adequate size to prevent breakage and promote long service life.
May be furnished completely self-contained with motor, pumps, and valves. Generally used for single line cranes and hoists.
Modern design permits faster handling of wood.

 
Capacity 8′
Wood 2438 mm
Height Less
Connector Open
Height Less
Connector Closed
Tine Width
Tine Opening
Weight Less
Connector & Rotator
Model No.
 
ft/in
mm
ft/in
mm
ft/in
mm
ft/in
mm
lbs.
kg.
OS-HR-25
1/4 Cord
2′ 6″
762
4′ 0″
1219
2′ 0″
610
5′ 10″
1778
1200
544
OS-HR-40
3/8 Cord
3′ 0″
914
5′ 0″
1524
2′ 8″
813
6′ 10″
2083
1460
662
OS-HR-50
1/2 Cord
3′ 4″
1016
5′ 5″
1651
2′ 8″
813
7′ 10″
2388
1550
703
OS-HR-65
5/8 Cord
3′ 8″
1118
6′ 2″
1880
3′ 0″
914
8′ 10″
2692
2100
953
OS-HR-75
3/4 Cord
3′ 11″
1194
6′ 11″
2108
3′ 0″
914
9′ 10″
2997
2680
1216
OS-HR-100
1 Cord
4′ 2″
1270
7′ 2″
2184
3′ 0″
914
10′ 10″
3302
3100
1407
OS-HR-125
1-1/4 Cord
4′ 5″
1346
7′ 11″
2413
3′ 6″
1067
12′ 0″
3658
3500
1588
OS-HR-150
1-1/2 Cord
4′ 7″
1397
8′ 4″
2540
3′ 6″
1067
12′ 11″
3937
4100
1860
OS-HR-175
1-3/4 Cord
4′ 10″
1473
9′ 0″
2743
3′ 6″
1067
13′ 10″
4216
4800
2178
OS-HR-200
2 Cord
5′ 0″
1524
9′ 6″
2896
3′ 6″
1067
14′ 9″
4496
5500
2495