Multiple Tine Rock & Scrap Grabs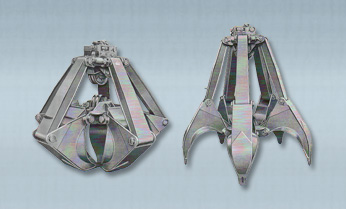 ASTM- (T-1) steel plate is used in manufacturing. 400 brinell hardness wear plate is used in high wear areas that come in contact with the product.
Grease fittings provided at all points of friction.
Heat-treated sheaves mounted on roller bearings.
Hardened fairlead rollers increase rope life.
Efficient – Low maintenance – Superior Quality.
 
Capacity
Height (Open)
Tine Opening
Weight
Model No.
yd
meter
ft/in
meters
ft/in
meters
lbs.
kg.
SG-50-5
0.5
0.38
7′ 2″
2.184
6′ 8″
2.032
4000
1814
SG-75-5
0.75
0.57
8′ 2″
2.489
7′ 10″
2.387
4500
2041
SG-100-5
1
0.76
10′ 0″
3.048
8′ 6″
2.591
5300
2404
SG-150-5
1.5
1.15
11′ 10″
3.607
9′ 4″
2.845
6400
2903
SG-200-5
2
1.53
12′ 8″
3.861
10′ 2″
3.099
6900
3130
SG-250-5
2.5
1.91
14′ 0″
4.267
11′ 0″
3.353
7900
3583
SG-300-5
3
2.29
14′ 10″
4.521
12′ 1″
3.683
9000
4082