Rock Scoops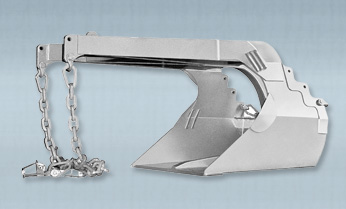 Heat-treated alloy steel combines light weight with rugged strength.
Pins and shafts are heat-treated steel of adequate size to prevent breakage and promote long service life.
Handles like a dragline bucket but keeps the hardware above the rock.
The weight, balance, and hitch are all carefully designed for maximum production and minimum maintenance.
Multiple hitch points are provided so that the balance of the scoop is adjustable for differences in grade and/or application.
 
Size Yard Rating
Height Overall
Width Overall
Length Overall
Length Inside Bowl
Weight Approx.
Model No.
yd
meters
ft/in
meters
ft/in
meters
ft/in
meters
ft/in 
meters
lbs.
kg
RS-100
1
0.76
4′ 10″
1.47
5′ 2″
1.58
9′ 0″
2.74
4′ 9″
1.4
4200
1905
RS-150
1.5
1.15
5′ 3″
1.6
5′ 8″
1.73
9′ 6″
2.9
5′ 0″
1.52
4900
2222
RS-200
2
1.53
5′ 8″
1.73
6′ 2″
1.88
10′ 2″
3.09
5′ 7″
1.7
6650
3016
RS-250
2.5
1.91
6′ 0″
1.829
6′ 6″
1.981
11′ 0″
3.35
6′ 6″
1.98
7600
3447
RS-300
3
2.29
6′ 8″
2.032
7′ 0″
2.134
13′ 4″
4.064
7′ 4″
2.235
9700
4399
RS-350
3.5
2.7
6′ 10″
2.083
7′ 6″
2.286
13′ 7″
4.142
7′ 7″
2.311
10800
4898
RS-400
4
3.04
7′ 0″
2.134
8′ 0″
2.438
13′ 10″
4.216
7′ 10″
2.387
12000
5442
RS-450
4.5
3.42
7′ 3″
2.21
8′ 3″
2.514
14′ 4″
4.369
8′ 3″
2.515
13200
5986
RS-500
5
3.82
7′ 6″
2.286
8′ 6″
2.591
14′ 9″
4.496
8′ 8″
2.614
18850
8549
RS-600
6
4.59
8′ 0″
2.438
8′ 10″
2.692
15′ 4″
4.67
9′ 4″
2.844
22300
10113