Self-Contained Hydraulically Operated Orange Peel Grabs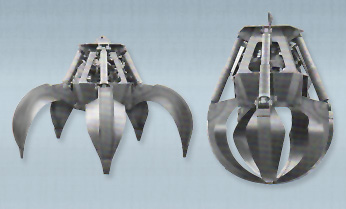 For use on all types of cranes and derricks.
May be furnished with or without hydraulic rotation.
Comes completely self-contained and ready for operation.
Other sizes and models available upon request.
All components nationally known brands.
Mack engineered and tested heavy-duty hydraulic cylinders.
Pins and shafts are heat-treated steel of adequate size to prevent breakage and promote long service life.
Heat-treated alloy steel combines light weight with rugged strength.
 


 No. of
Capacity
Overall Height
(open)
Overall Height
(closed)
Opening
Between Tines
Approximate
weight with oil
Model No.
 Tines
yd
meters
ft/in
meters
ft/in
meters
ft/in
meters
lbs.
kg.
OPSISCH-100-5
5
1
0.76
6′ 4″
1.93
7′ 2″
2.184
8′ 4″
2.540
4500
2041
OPSISCH-150-5
5
1.5
1.15
6′ 5″
1.955
7′ 7″
2.311
9′ 2″
2.794
5200
2359
OPSISCH-200-5
5
2
1.53
7′ 1″
2.159
8′ 1″
2.464
10′ 0″
3.040
6491
2944
OPSISCH-250-5
5
2.5
1.91
7′ 9″
2.362
8′ 7″
2.62
10′ 11″
3.330
7800
3538
OPSISCH-300-5
5
3
2.29
7′ 10″
2.39
8′ 10″
2.692
11′ 5″
3.480
10200
4627
OPSISCH-400-5
5
4
3.06
7′ 11″
2.413
9′ 3″
2.82
12′ 3″
3.733
11000
4990
OPSISCH-500-5
5
5
3.82
8′ 2″
2.49
9′ 10″
2.997
13′ 1″
3.988
13165
5972
OPSISCH-600-5
5
6
4.59
8′ 5″
2.565
10′ 2″
3.099
13′ 9″
4.191
13415
6085
OPSISCH-700-5
5
7
5.35
8′ 8″
2.642
10′ 9″
3.277
14′ 7″
4.445
14200
6441
OPSISCH-800-5
5
8
6.11
9′ 1″
2.77
10′ 11″
3.327
15′ 1″
4.600
15100
6849
OPSISCH-900-5
5
9
6.92
9′ 2″
2.794
11′ 1″
3.38
16′ 1″
4.902
18400
8346
OPSISCH-1000-5
5
10
7.65
9′ 3″
2.82
11′ 5″
3.48
16′ 5″
5.003
18900
8573
OPSISCH-1100-5
6
11
8.41
9′ 3″
2.82
11′ 8″
3.56
16′ 9″
5.104
22300
10115
OPSISCH-1200-5
6
12
9.17
9′ 4″
2.844
11′ 10″
3.607
17′ 2″
5.232
23100
10478