Multiple Tine Rock Grabs & Scrap Grabs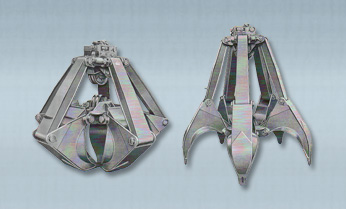 Made of heat-treated alloy steel having exceptionally high physical characteristics.
Modern arc welded design combining light weight with rugged strength.
Grease fittings provided at all points of friction.
Heat-treated sheaves mounted on roller bearings.
Hardened fairlead rollers increase rope life.
Efficient – Low maintenance – Superior Quality.
 
Capacity
Height (Open)
Tine Opening
Weight
Model No.
yd
meter
ft/in
meters
ft/in
meters
lbs.
kg.
SG-50-5
0.5
0.38
7′ 2″
2.184
6′ 8″
2.032
4000
1814
SG-75-5
0.75
0.57
8′ 2″
2.489
7′ 10″
2.387
4500
2041
SG-100-5
1
0.76
10′ 0″
3.048
8′ 6″
2.591
5300
2404
SG-150-5
1.5
1.15
11′ 10″
3.607
9′ 4″
2.845
6400
2903
SG-200-5
2
1.53
12′ 8″
3.861
10′ 2″
3.099
6900
3130
SG-250-5
2.5
1.91
14′ 0″
4.267
11′ 0″
3.353
7900
3583
SG-300-5
3
2.29
14′ 10″
4.521
12′ 1″
3.683
9000
4082