Cable Operated Orange Peel Five Tine Waste Grabs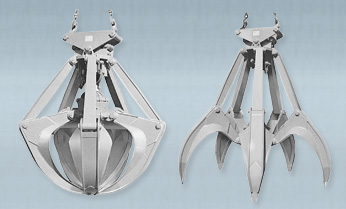 Exceptionally efficient "clean up".
Modern welded design permits faster handling of waste at full capacity.
Heat-treated alloy steel combines light weight with rugged strength.
Replaceable bushing used at upper and lower arm connections and at main tine connections.
Pins and shafts are heat-treated steel of adequate size to prevent breakage and promote long service life.
Sheaves mounted on roller bearing, grooved for rope size specified by user.
Grease fittings arranged to prevent accidental damage.
Hardened fairlead rollers reduce rope wear.
Replaceable points at tips on each tine to withstand shock and wear.
Wedge type rope connectors used on all Mack grabs for easy rope connection.
Set up for four-line service, or for your specific operation.
 
Capacity
Height (Open)
Height (Closed)
Tine Opening
Weight
 Model No.
yd
meters
ft/in
meters
ft/in
meters
ft/in
 meters
lbs.
kg.
OPW-100-5
1
0.76
9′ 1″
2.769
7′ 10″
2.388
9′ 5″
2.876
6500
2948
OPW-200-5
2
1.53
10′ 5″
3.175
8′ 11″
2.718
10′ 1″
3.073
8600
3900
OPW-300-5
3
2.29
11'11″
3.632
10′ 3″
3.124
12′ 0″
3.658
10600
4807
OPW-400-5
4
3.06
13′ 9″
4.191
11′ 6″
3.505
13′ 7″
4.14
11400
5170
OPW-500-5
5
3.82
14′ 2″
4.318
12′ 4″
3.759
14′ 6″
4.42
12225
5544
OPW-600-5
6
4.59
15′ 2″
4.623
13′ 9″
4.191
15′ 1″
4.597
12925
5862
OPW-700-5
7
5.35
15′ 10″
4.826
14′ 8″
4.47
16′ 11″
5.156
14125
6406
OPW-800-5
8
6.12
16′ 5″
5.004
15′ 3″
4.648
18′ 0″
5.486
16775
7608
OPW-900-5
9
6.88
17′ 2″
5.232
15′ 9″
4.801
18′ 6″
5.639
17500
7937
OPW-1000-5
10
7.65
18′ 9″
5.715
17′ 9″
5.41
18′ 10″
5.74
19500
8844
OPW-1100-5
11
8.41
19′ 0″
5.791
18′ 1″
5.512
19′ 5″
5.918
20700
9388
OPW-1200-5
12
9.18
19′ 3″
5.862
18′ 11″
5.766
20′ 7″
6.274
21325
9671
OPW-1300-5
13
9.34
19′ 9″
6.02
19′ 3″
5.867
20′ 10″
6.35
21900
9932
OPW-1400-5
14
10.7
20′ 3″
6.176
19′ 10″
6.049
22′ 2″
6.76
22600
10249
OPW-1500-5
15
11.48
21′ 1″
6.429
20′ 7′
6.278
23′ 4″
7.117
23475
10646