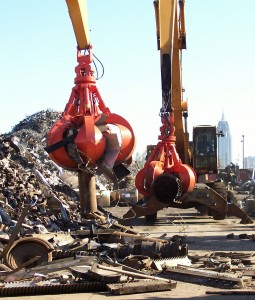 Theodore, AL – With a lifting capacity of 1.75 cu. yd., Mack Manufacturing's OPSIHCR-175-5 orange peel grapple is ideally sized for daily use in a wide range of scrap metal and recycling applications.
Engineered for durable service, the grapple's tines are fabricated out of AR400 steel plate and all shafting is 4140 heat treated stress relieved. Oversized pins are provided for long life. All grease fittings are countersunk for protection and are easily accessible for servicing.
Like all grapples from Mack Manufacturing, the heavy-duty cylinders for this model are completely fabricated in Mack's own machine shop.
The OPSIHCR-175-5 grapple is available with or without rotation, with the crane block ready to connect to any excavator or purpose-built material handler. Choose from a selection of tine designs, all equipped with weld-on replaceable teeth.
This orange-peel grapple opens up to a 9′ 8″ grab and typically weighs 5,400 lbs.

Mack offers a full range of 4-tine and 5-tine orange peel grapples for the recycling industry. For details, visit https://mackmfg.com/products/grapples/scrap-grapples/.
About Mack Manufacturing
Mack Manufacturing is a global leader in industrial material handling attachments, specializing in heavy-duty hydraulic grapples and buckets for overhead cranes and mobile equipment. Established in 1942, Mack continues to operate as a family-owned business committed to the development of highly-skilled welders, fabricators and support staff. Mack's head office facility in Theodore, Alabama, is fully equipped to complete every step of attachment manufacturing and remanufacturing tasks under one roof, from engineering to precision machining to final finish.
For more information on Mack Manufacturing contact:
Matthew (Matt) Davidson
Vice President of Sales & Marketing
7205 Bellingrath Road
Theodore, AL 36582
Tel: 251-653-9999
Email: sales@mackmfg.com
www.mackmfg.com