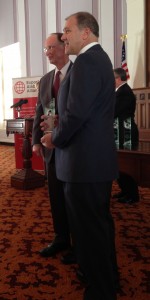 MONTGOMERY, AL – Governor Robert Bentley of Alabama recently presented the Governor's Trade Excellence Awards to Mack Manufacturing, based in Theodore, AL. Mack was one of eight Alabama companies singled out for excelling in international trade.
The governor's presentation noted that Mack has been doing business internationally with its crane grapples and buckets for over 35 years. Export sales account for over 15% of Mack's annual production.
Increasing exports from Alabama companies is a major priority in the Accelerate Alabama long-term economic development plan. "The success of these companies shows how Alabama products are reaching a global marketplace," Governor Bentley said. "These companies are taking advantage of the tools available to them to serve customers all over the world."
"All of these companies are leaders in Alabama for exports," Alabama Department of Commerce Secretary Greg Canfield said. "By expanding their markets beyond those of the state and the U.S., they are creating high-paying jobs that support families, sustain jobs and make a major impact on the local and state economies."
Mack Manufacturing Incorporated is a family-owned and operated company founded in 1942. The firm currently employs 82 staff in skilled trades, engineering, sales and administrative roles. Originating in Duluth, Minnesota as a welding company serving the mining industry, Mack soon transformed itself into a crane attachment manufacturer. Mack relocated its head office and factory to Alabama in 1972. Recognized as an innovator in log-handling attachments, Mack grapples and buckets have earned an international reputation for "Quality First" for ocean ports and ship's gear, recycling and waste-handling, forestry. power utilities, steel and mining applications.
About Mack Manufacturing
Mack Manufacturing is a global leader in industrial material handling attachments, specializing in heavy-duty hydraulic grapples and buckets for overhead cranes and mobile equipment. Established in 1942, Mack continues to operate as a family-owned business committed to the development of highly-skilled welders, fabricators and support staff. Mack's head office facility in Theodore, Alabama, is fully equipped to complete every step of attachment manufacturing and remanufacturing tasks under one roof, from engineering to precision machining to final finish.
For more information on Mack Manufacturing contact:
Matthew (Matt) Davidson
Vice President of Sales & Marketing
7205 Bellingrath Road
Theodore, AL 36582
Tel: 251-653-9999
Email: sales@mackmfg.com
www.mackmfg.com