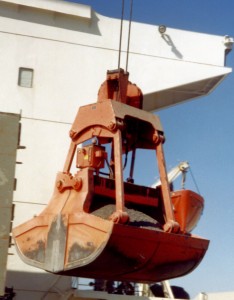 THEODORE, AL – Mack Manufacturing has been building on its range of single-line clamshell buckets to offer larger equipment for the higher capacity cranes appearing on some of today's newer ships.
"We have been receiving orders recently for ship mounted cranes rated up to as much as 30 and 35 tons," says Matt Davidson, Vice President of Sales & Marketing at Mack. "25-yard buckets used to be the largest size we ever produced for these applications, but we'll build them as big as our customers need."
Mack is a leading manufacturer of crane attachments for a full range of stevedoring applications. While smaller "touch & go" buckets were previously more common in use with the ship's cranes, Mack has found that most ship builders and stevedoring firms have adopted their radio controlled, single-line buckets over recent years. One innovation that is gaining in popularity is Mack's self-contained diesel-powered grapples and buckets with remote controls. This model allows our customers to handle materials with higher densities such as pig iron and HBI.  "Our single-line buckets can be designed to meet the larger sized requirements than the old touch & go models," says Davidson, "but they still offer the simplicity and versatility you want on a ship's crane, compared to the electrically powered units used by port facilities."
Mack offers a full range of medium-duty buckets recommended for off-loading bulk materials up to 100 lbs./cu.ft., as well as light-duty buckets that offer weight-savings and lower costs for moving grains and similar materials weighing under 60 lbs./cu.ft. Mack radio-controlled models allow operators to actuate the bucket hydraulics from onboard the ship or from the dock, anywhere within a 500 ft. radius. The solenoid control valve on the bucket is powered by a basic 12 V marine battery. Standard models include a second valve which can be attached to a ¼" line as a backup to the radio control.
With more than 30 years experience supplying equipment for ships and ports, Mack works with their customers to help them assess the optimum bucket size and type to match the equipment and cargoes they require. "Our goal is to move the maximum amount of material over the longest possible lifecycle," says Davidson. "That's how our customers get the best value from our products."
About Mack Manufacturing
Mack Manufacturing is a global leader in industrial material handling attachments, specializing in heavy-duty hydraulic grapples and buckets for overhead cranes and mobile equipment. Established in 1942, Mack continues to operate as a family-owned business committed to the development of highly skilled welders, fabricators and support staff. Mack's head office facility in Theodore, AL, is fully equipped to complete every step of attachment manufacturing and remanufacturing tasks under one roof, from engineering to precision machining to final finish.
For more information on Mack Manufacturing contact:
Matthew (Matt) Davidson
Vice President of Sales & Marketing
7205 Bellingrath Road
Theodore, AL  36582
Tel: 251-653-9999
Email: sales@mackmfg.com