Cable Operated Log Grabs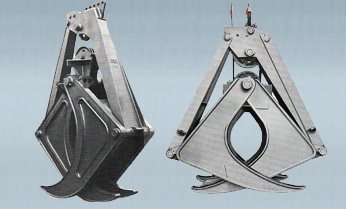 Furnished in all types for handling smallest to largest logs on any type of crane or derrick.
Special P Models for handling treated poles without damage.
Made of heat-treated steel having exceptionally high physical characteristics.
Efficient – Low Maintenance.
Welded construction – combining light weight with rugged strength.
Heat-treated sheaves and hardened fairlead rollers mounted on roller bearings assure longer rope life.



 
Area When Tine
Points Are Meeting
Overall Height
(Open)
Tine Opening
Tine Width.
Weight
Model No.
Old Model No.
ft
meters
ft/in
mm
ft/in
mm
ft/in
mm
lbs.
kg.
ILG-2
ILG-16
2
0.19
6′ 2″
1880
4′ 7″
1397
2′ 0″
610
1300
590
ILG-3
ILG-18
3
0.28
7′ 0″
2134
5′ 2″
1575
2′ 0″
610
1650
749
ILG-4
ILG-20
4
0.37
8′ 4″
2540
5′ 8″
1727
2′ 9″
838
2000
907
ILG-5
ILG-28
5
0.46
8′ 8″
2642
6′ 3″
1905
2′ 9″
838
2200
998
ILG-6
ILG-30
6
0.56
9′ 8″
2946
7′ 1″
2159
3′ 4″
1016
2800
1270
ILG-8
ILG-36
8
0.74
10′ 11″
3327
7′ 10″
2388
3′ 4″
1016
3300
1497
ILG-10
ILG-42
10
0.93
12′ 2″
3708
8′ 7″
2616
4′ 5″
1346
4600
2087
ILG-15
ILG-54
15
1.39
12′ 10″
3912
9′ 3″
2819
4′ 5″
1346
5400
2450
ILG-20
ILG-60
20
1.86
13′ 2″
4013
10′ 11″
3327
4′ 5″
1346
6300
2858
ILG-25
ILG-72
25
2.32
14′ 4″
4369
11′ 8″
3556
4′ 5″
1346
7300
3312
ILG-20B
 
20
1.86
15′ 2″
4623
10′ 2″
3099
3′ 0″
914
8600
3902
ILG-25B
 
25
2.32
17′ 4″
5283
12′ 2″
3708
3′ 0″
914
9900
4492
ILG-30B
 
30
2.79
18′ 3″
5563
13′ 7″
4140
3′ 0″
914
11500
5218
ILG-35B
 
35
3.25
19′ 3″
5867
15′ 0″
4572
3′ 6″
1067
13000
5898
ILG-40B
 
40
3.72
20′ 2″
6147
16′ 5″
5004
3′ 6″
1067
14650
6647
ILG-45B
 
45
4.18
21′ 1″
6426
17′ 10″
5436
3′ 6″
1067
16200
7350
ILG-50B
 
50
4.65
22′ 2″
6756
19′ 2″
5842
4′ 0″
1219
17800
8076
ILG-55B
 
55
5.12
22′ 11″
6985
20′ 0″
6096
4′ 0″
1219
18400
8348
ILG-60B
 
60
5.57
23′ 8″
7214
20′ 10″
6350
4′ 0″
1219
19000
8621