Orange Peel 5 Tine Independent Tine Action Scrap Grabs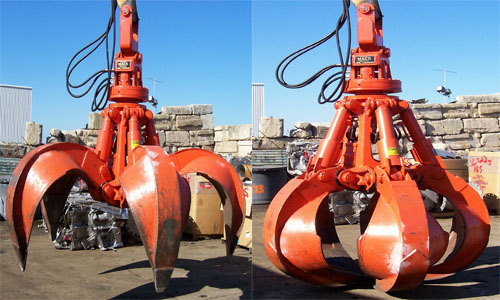 All weights and dimensions are approximate.
High and low pressures available.
Special sizes and types upon request.
Mack manufactured heavy-duty cylinders.
All shafts are heat-treated steel of adequate size to prevent   breakage.
Furnished with replaceable bushings at all hinge points.
May be furnished with 260 degree or continuous hydraulic rotation.
Heat-treated alloy steel combines light weight with rugged strength.
Grease fittings arranged to prevent accidental damage.
Furnished with connector to fit your boom point.
Pre-hosed ready to go.
Adaptable to fit all types and models of hydraulic cranes.

 
Capacity
Overall Height
(open)
Overall Height
(closed)
Opening
Between Tines
Approximate
weight with oil
Model No.
yd
meters
ft/in
meters
ft/in
meters
ft/in
meters
lbs.
kg.
OPSIH-50-5
0.5
0.38
4′ 8″
1.422
6′ 1″
1.854
6′ 8″
2.032
2900
1,315
OPSIH-75-5
0.75
0.57
5′ 0″
1.524
6′ 6″
1.981
7′ 7″
2.311
3300
1,497
OPSIH-100-5
1
0.76
5′ 1″
1.549
6′ 9″
2.057
8′ 2″
2.489
3400
1,542
OPSIH-125-5
1.25
0.96
5′ 2″
1.575
7′ 1″
2.159
8′ 8″
2.642
3500
1,587
OPSIH-150-5
1.5
1.15
5′ 3″
1.600
7′ 5″
2.260
9′ 4″
2.845
3700
1,678
OPSIH-175-5
1.75
1.34
5′ 8″
1.727
7′ 11″
2.413
9′ 8″
2.946
4100
1,860
OPSIH-200-5
2
1.53
6′ 4″
1.930
8′ 6″
2.591
10′ 0″
3.048
4700
2,132
OPSIH-250-5
2.5
1.91
6′ 5″
1.956
8′ 10″
2.692
10′ 8″
3.251
4900
2,223
OPSIH-300-5
3
2.29
6′ 9″
2.057
9′ 6″
2.896
12′ 2″
3.708
5500
2,495